About Us
Kam Wa is a Chinese takeaway in Glasgow. Why don't you try our Fried Bean Sprouts with Gravy or Diet Iru Bru?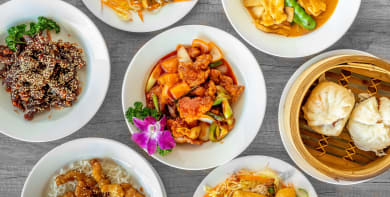 Reviews
436 reviews
S
"Got the chicken curry box meal. Really enjoyed it!"
16/06/2021
M
"Quick delivery and the chicken curry was lovely as usual but the salt n chilli spring rolls were lacking salt and chilli hopefully sorted for next time will definitely be back"
12/06/2021
John
"Food was delicious and delivery was about 20mins early. No complaints and I will defo be ordering again 👌🏻"
01/06/2021
Sean
"Great food generous portions well worth the wait til opening time"
29/05/2021
Menu
Prawn Toast with Sesame Seeds
£4.20
BBQ Spare Ribs in Barbecue Sauce
£5.40
BBQ Spare Ribs with Sauce Dry
£5.40
BBQ Spare Ribs with Sauce Gravy
£5.40
BBQ Spare Ribs with Sauce Syrup
£5.40
BBQ Spare Ribs with Chilli & Salt
£5.40
Mussels in Black Bean Sauce
£5.40
Mussels in Szechuan Chilli Sauce
£5.40
Deep Fried King Prawn Ball
£6.20
Fried Chicken Wings in Peking Sauce
£5.20
Salt & Chilli Chicken (Dry)
£5.40
Salt & Chilli Chicken Wings (Dry)
£5.20
Mini Vegetable Pancake Roll (10)
With sweet & sour sauce
£3.80
Hot Chicken Gyoza Dumpling
£4.50
Salt & Chilli Mini Spring Roll
£4.10
Breast of Chicken Curry
Whole
£7.00
Chicken & Barbecued Pork Curry
£7.10
Stir Fried Breast in Barbecued Sauce
£6.20
Stir Fried Chicken Breast in Cantonese Sauce
£6.20
Crispy Chicken & Beef with Chilli Sauce
Peking sauce £0.20 extra
£6.00
Crispy Shredded Beef in Chilli Sauce
Peking sauce £0.20 extra
£6.00
Crispy Shredded Chicken in Chilli Sauce
Peking sauce £0.20 extra
£6.00
Malaysian Spicy Fried Rice
Egg on top
£7.00
Malaysian Spicy Chow Mein
Egg on top
£7.00
Malaysian Rendang Chicken
£5.90
Malaysian Rendang King Prawn
£6.30
Kam Wa Special Satay Wok Fried
King prawns, beef & chicken
£6.20
Kam Wa Special Satay On Skewers
King prawns, beef & chicken
£6.50
King Prawn Satay Wok Fried
£6.40
King Prawn Satay On Skewers
£6.70
King Prawn & Chicken Satay Wok Fried
£6.20
King Prawn & Chicken Satay On Skewers
£6.50
Chicken & Beef Satay Wok Fried
£6.00
Chicken & Beef Satay On Skewers
£6.30
King Prawn with Cashew Nuts
£6.40
King Prawn with Pineapple & Cashew Nuts
£6.40
King Prawn with Bamboo Shoots & Water Chestnuts
£6.40
King Prawn with Mushrooms
£6.40
King Prawns with Bean Sprouts
£6.40
King Prawn with Ginger & Spring Onion
£6.40
Roast Duck with Orange Sauce
£6.40
Roast Duck with Cashew Nuts & Bamboo Shoots
£6.40
Roast Duck with Plum Sauce
£6.40
Roast Duck with Pineapple
£6.40
Roast Duck with Mushrooms
£6.40
Roast Duck with Green Pepper & Black Bean Sauce
£6.40
Roast Duck with BBQ Sauce
£6.40
Roast Duck Cantonese Style
£6.40
Roast Duck with Ginger & Spring Onion
£6.40
Aromatic Crispy Duck Quarter
Served with Chinese pancakes, green vegetables & duck sauce
£9.00
Aromatic Crispy Duck Half
Served with Chinese pancakes, green vegetables & duck sauce
£16.00
Aromatic Crispy Duck Whole
Served with Chinese pancakes, green vegetables & duck sauce
£26.50
Beef with Bamboo Shoots & Water Chestnuts
£5.80
Beef with Ginger & Spring Onion
£6.00
Stir Fried Chicken Breast in Lemon Sauce
£6.20
Stir Fried Chicken Breast in Orange Sauce
£6.20
Chicken with Pineapple & Cashew Nuts
£5.20
Chicken with Bamboo Shoots & Water Chestnuts
£6.00
Chicken Breast with Bean Sprouts
Soya sauce
£6.00
Chicken with Ginger & Spring Onion
£6.00
Barbecued Pork with Mushroom
£5.80
Barbecued Pork with Pineapple
£5.80
Barbecued Pork with Bean Sprouts
£5.80
Barbecued Pork with Cashew Nuts
£6.00
Barbecued Pork with Green Pepper Black Bean Sauce
£6.00
Barbecued Pork with Ginger & Spring Onion
£6.00
Sweet & Sour King Prawn Hong Kong Style
£6.40
Sweet & Sour Chicken Hong Kong Style
£5.80
Sweet & Sour Beef Hong Kong Style
£5.80
Combination Sweet & Sour Hong Kong Style
£6.30
Sweet & Sour Stir Fried Chicken
Breast
£5.80
Sweet & Sour King Prawn Balls
£6.40
Sweet & Sour Chicken Balls
£5.40
Mixed Sweet & Sour
5 chicken, 5 king prawn balls & 5 mini vegetable pancake rolls
£6.40
Chicken & Barbecued Pork Foo Young
£6.30
Mixed Vegetables with Cashew Nuts
£5.70
Mixed Vegetables with Satay Sauce
£5.50
Mixed Vegetables with Black Bean Sauce
£5.50
Mixed Vegetables with Mandarin Sauce
£5.50
Mixed Vegetable Szechuan Sauce
£5.50
Mixed Vegetable Kung Po Sauce
£5.50
Mixed Vegetable Peking Sauce
£5.50
Vegetarian Chicken with Any Sauce
£5.50
Vegetarian Chicken Satay on Skewers
£5.70
Breast of Chicken Chow Mein with Gravy
£6.60
Chicken & Barbecued Pork Chow Mein
£6.60
King Prawn Hot Chilli Sauce
£6.30
Kam Wa Combination Fried Rice
£6.80
Breast of Chicken Fried Rice with Gravy
£6.60
Barbecued Pork Fried Rice
£6.60
Chicken & Barbecued Pork Fried Rice
£6.60
Roast Breast of Chicken with Gravy
£6.60
Mushroom & Onion Omelette
£5.80
Banana Fritter with Syrup
£3.00
Pineapple Fritter with Syrup
£3.00
Banana & Pineapple Fritter with Syrup
£3.00
Fried Bean Sprouts with Gravy
£3.20
Bamboo Shoots & Water Chestnuts
£3.20
Plain Chow Mein Thick Noodles
£3.20
Plain Chow Mein Thin Noodles
£4.20
Chips Cheese & Curry Sauce Small
£3.40
Chips Cheese & Curry Sauce Large
£4.00
Fried Rice & Curry Sauce Small
£3.20
Fried Rice & Curry Sauce Large
£3.80
Fried Rice & Satay Sauce Small
£3.50
Fried Rice & Satay Sauce Large
£4.10
Chips & Satay Sauce Small
£3.50
Chips & Satay Sauce Large
£4.10
Chips & Any Other Sauce Small
£3.20
Chips & Any Other Sauce Large
£3.80
Fried Rice & Barbecue Sauce Small
£3.20
Fried Rice & Barbecue Sauce Large
£3.80
Chips & Barbecue Sauce Small
£3.20
Chips & Barbecue Sauce Large
£3.80
Fried Rice with Chips & Curry Sauce Small
£3.40
Fried Rice with Chips & Curry Sauce Large
£4.00
Salt & Chilli Chips Small
£3.40
Salt & Chilli Chips Large
£4.00
Chicken with Green Pepper & Black Bean Sauce Box Chips
£5.50
Chicken with Green Pepper & Black Bean Sauce Box Rice
£5.50
Beef with Green Pepper & Black Bean Sauce Box Chips
£5.50
Beef with Green Pepper & Black Bean Sauce Box Rice
£5.50
10" Munchy Box
Chicken balls, crispy chicken, chicken wings, spare ribs, mini rolls, chips, curry sauce & free prawn crackers
£13.50
Set Meal For 2
Any changes to dishes £1 extra
2 x Chicken Noodle Soup or Chicken Mushroom Soup
BBQ Ribs
Choice of 2 Main Dishes
Prawn Crackers
Banana or Pineapple Fritter in Syrup
2 x Fried Rice
£22.50
4 Chicken Balls, Fried Rice & Sauce
£5.40
4 Chicken Balls, Chips & Sauce
£5.40
4 Pieces Spare Ribs, Fried Rice & Sauce
£5.40
Black Bean with Mixed Meat
£6.30
Black Bean with King Prawn
£6.30
Contact Us
Find Us
746 Pollokshaws Road, Glasgow, G412AE
We deliver to
G41, G42, G43, G44, G46, G5, G52