About Us
Kam Wa is a Chinese takeaway in Glasgow. Why don't you try our Fried Bean Sprouts with Gravy or Diet Iru Bru?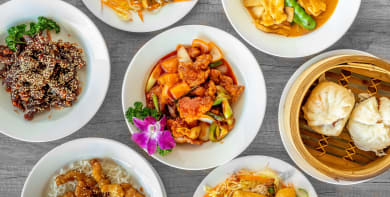 Reviews
544 reviews
Matthew
"Absolutely brilliant, very enjoyable, will definitely be ordering again."
26/05/2020
Jane
"Once again excellent"
19/05/2020
Michael
"Food fantastic,now my favourite Chinese on the southside"
16/05/2020
Peter
"No complaints will order again"
16/05/2020
Menu
Stir Fried King Prawns in Kung Po Sauce
£5.60
Stir Fried Chicken in Kung Po Sauce
£5.00
Stir Fried Beef in Kung Po Sauce
£5.00
Stir Fried Beef Peking Sauce
£5.20
Roast Crispy Duck Peking Sauce
£5.50
Stir Fried Chicken Peking Sauce
£5.00
Stir Fried King Prawns Peking Sauce
£5.60
Stir Fried Chicken Breast in Peking Sauce
£5.20
Malaysian Mama Rendang Beef
£5.20
Malaysian Mama Rendang Chicken
£5.20
Malaysian Spicy Chow Mein
Egg on top
£5.60
Malaysian Spicy Fried Rice
Egg on top
£5.60
Beef with Green Pepper & Black Bean Sauce Box Chips
£4.70
Beef with Green Pepper & Black Bean Sauce Box Rice
£4.70
Chicken Breast Curry Box Chips
£4.70
Chicken Breast Curry Box Rice
£4.70
Chicken with Green Pepper & Black Bean Sauce Box Chips
£4.70
Chicken with Green Pepper & Black Bean Sauce Box Rice
£4.70
Green Pepper & Black Bean Sauce Beef
Green Pepper & Black Bean Sauce Chicken
Banana & Pineapple Fritter with Syrup
£2.20
Banana Fritter with Syrup
£2.20
Pineapple Fritter with Syrup
£2.20
Dinner A1 For Two Persons
Chicken & mushroom soup with prawn crackers
Barbecued spare ribs
Beef curry
Sweet & sour chicken
Yeung chow fried rice
£21.00
Dinner A2 For Two Persons
Chicken & mushroom soup with prawn crackers
Barbecued spare ribs
Sweet & sour chicken Hong Kong style
Beef with mushroom
Yeung chow fried rice
£21.00
Aromatic Crispy Duck Half
Served with Chinese pancakes, green vegetables & duck sauce
£14.00
Aromatic Crispy Duck Quarter
Served with Chinese pancakes, green vegetables & duck sauce
£7.50
Aromatic Crispy Duck Whole
Served with Chinese pancakes, green vegetables & duck sauce
£24.00
Roast Duck Cantonese Style
£5.50
Roast Duck with BBQ Sauce
£5.50
Roast Duck with Cashew Nuts & Bamboo Shoots
£5.50
Roast Duck with Ginger & Spring Onion
£5.50
Roast Duck with Green Pepper & Black Bean Sauce
£5.50
Roast Duck with Mushrooms
£5.50
Roast Duck with Orange Sauce
£5.50
Roast Duck with Pineapple
£5.50
Roast Duck with Plum Sauce
£5.50
Szechuan Chilli Sauce Chicken
Hot
£5.20
Szechuan Chilli Sauce Chicken & Mushroom
Hot
£5.20
Stir Fried Chicken Breast in Lemon Sauce
£5.20
Stir Fried Chicken Breast in Orange Sauce
£5.20
Chicken with Bamboo Shoots & Water Chestnuts
£5.20
Chicken with Ginger & Spring Onion
£5.20
Chicken with Green Pepper & Black Bean Sauce
£5.20
Chicken Breast with Bean Sprouts
Gravy
£5.20
Chicken with Mushrooms & Black Bean Sauce
£5.20
Chicken with Oyster Sauce
£5.20
Chicken with Pineapple & Cashew Nuts
£5.20
Beef with Bamboo Shoots & Water Chestnuts
£5.00
Beef with Ginger & Spring Onion
£5.20
Beef with Green Pepper & Black Bean Sauce
£5.20
Beef with Mushrooms & Black Bean Sauce
£5.20
Szechuan Chilli Sauce Beef
Hot
£5.20
Szechuan Chilli Sauce Beef with Mushrooms
Hot
£5.20
Szechuan Chilli Barbecued Pork
£5.20
Barbecued Pork with Bean Sprouts
£5.00
Barbecued Pork with Cashew Nuts
£5.20
Barbecued Pork with Ginger & Spring Onion
£5.20
Barbecued Pork with Green Pepper Black Bean Sauce
£5.20
Barbecued Pork with Mushroom
£5.00
Barbecued Pork with Pineapple
£5.00
Barbecued Pork with Szechuan Chilli Mushrooms
£5.20
10" Munchy Box
Chicken balls, crispy chicken, chicken wings, spare ribs, mini rolls, chips, curry sauce & free prawn crackers
£12.50
Siam Beef
Sweet & chilli sauce
£5.40
Siam Chicken
Sweet & chilli sauce
£5.40
Siam King Prawn
Sweet & chilli sauce
£5.60
Spicy Chicken & Beef Thai Style
£5.20
Spicy King Prawn Thai Style
£5.60
Thai Sweet & Sour Chicken
£5.20
Thai Sweet & Sour King Prawn
£5.60
Szechuan Mixed Vegetables
£4.40
Mixed Vegetables with Black Bean Sauce
£4.40
Mixed Vegetables with Cashew Nuts
£4.60
Mixed Vegetables with Mandarin Sauce
£4.40
Mixed Vegetables with Satay Sauce
£4.40
Chips & BBQ Sauce Tray Large
£3.00
Chips & BBQ Sauce Tray Small
£2.40
Chips & Curry Sauce Tray Large
£3.00
Chips & Curry Sauce Tray Small
£2.40
Fried Rice & BBQ Sauce Tray Large
£3.00
Fried Rice & BBQ Sauce Tray Small
£2.40
Fried Rice & Curry Sauce Tray Large
£3.00
Fried Rice & Curry Sauce Tray Small
£2.40
Fried Rice & Gravy Tray Large
£3.00
Fried Rice & Gravy Tray Small
£2.40
Fried Rice with Chips & Curry Sauce Tray Large
£3.40
Fried Rice with Chips & Curry Sauce Tray Small
£2.40
Salt & Chilli Chips Tray Large
£3.20
Salt & Chilli Chips Tray Small
£2.40
Kam Wa Combination Chow Mein
£6.00
Breast of Chicken Chow Mein with Gravy
£5.80
Chicken & Barbecued Pork Chow Mein
£5.80
King Prawn with Bamboo Shoots & Water Chestnuts
£5.60
King Prawn with Mushrooms & Black Bean Sauce
£5.60
King Prawn with Szechuan Chilli Sauce
Hot
£5.60
King Prawn & Szechuan Chilli Sauce
With mushroom
Hot
£5.60
King Prawn with Cashew Nuts
£5.60
King Prawn with Ginger & Spring Onion
£5.60
King Prawn with Green Pepper & Black Bean Sauce
£5.60
King Prawn with Oyster Sauce
£5.60
King Prawn with Pineapple & Cashew Nuts
£5.60
King Prawns with Bean Sprouts
£5.60
Mushroom & Onion Omelette
£4.80
Roast Breast of Chicken with Gravy
£5.80
Grilled King Prawn Peking Style
Wine, ginger & garlic sauce
£5.60
Combination Green Pepper & Black Bean Sauce
£5.60
Crispy Chicken & Beef with Sauce Chilli
£5.00
Crispy Chicken & Beef with Sauce Peking
£5.20
Crispy Chicken with Chilli & Salt
£4.80
Crispy Shredded Beef in Sauce Chilli
£5.00
Crispy Shredded Beef in Sauce Peking
£5.20
Crispy Shredded Chicken in Sauce Chilli
£5.00
Crispy Shredded Chicken in Sauce Peking
£5.20
Stir Fried Breast in Barbecued Sauce
£5.20
Stir Fried Chicken Breast in Cantonese Sauce
£5.20
Stir Fried Chicken Breast in Sweet Chilli Sauce
£5.20
Stir Fried Chicken in Garlic & Wine Sauce
Peking style
£5.20
Stir Fried King Prawns in Garlic & Wine Sauce
Peking style
£5.60
Szechuan Chilli Combination with Mushrooms
Hot
£5.60
Lai Chi Chicken
Chilli sauce with garlic
£5.00
Lai Chi Combination
Chilli sauce with garlic
£5.60
Lai Chi King Prawn
Chilli sauce with garlic
£5.60
Thin Noodles (No Vegetables) Large
£3.40
Thin Noodles (No Vegetables) Small
£2.40
Soft Noodles (No Vegetables) Large
£3.40
Soft Noodles (No Vegetables) Small
£2.40
Fried Bean Sprouts with Gravy
£2.40
Bamboo Shoots & Water Chestnuts
£2.20
4 Chicken Balls, Chips & Sauce
£4.60
4 Chicken Balls, Fried Rice & Sauce
£4.60
4 Pieces Spare Ribs, Fried Rice & Sauce
£4.60
Quarter Chicken Chow Mein
£4.60
Quarter Chicken Fried Rice
£4.60
Barbecued Pork Fried Rice
£5.80
Chicken & Barbecued Pork Fried Rice
£5.40
Breast of Chicken Fried Rice with Gravy
£5.80
Kam Wa Combination Fried Rice
£6.00
Kam Wa Special Satay On Skewers
King prawns, beef & chicken
£5.40
Kam Wa Special Satay Wok Fried
King prawns, beef & chicken
£5.40
Chicken & Beef Satay On Skewers
£5.20
Chicken & Beef Satay Wok Fried
£5.20
King Prawn Satay On Skewers
£5.60
King Prawn Satay Wok Fried
£5.60
King Prawn & Chicken Satay On Skewers
£5.40
King Prawn & Chicken Satay Wok Fried
£5.40
Mixed Sweet & Sour
5 chicken, 5 king prawn balls & 5 mini vegetable pancake rolls
£5.60
Sweet & Sour Stir Fried Chicken
Breast
£5.00
Sweet & Sour Beef Hong Kong Style
£5.00
Sweet & Sour Chicken Balls
£4.60
Sweet & Sour Chicken Hong Kong Style
£5.00
Sweet & Sour King Prawn Balls
£5.60
Sweet & Sour King Prawn Hong Kong Style
£5.60
Combination Sweet & Sour Hong Kong Style
£5.50
Chicken & Barbecued Pork Foo Young
£5.00
Salt & Chilli Chicken Wings (Dry)
£4.60
Prawn Toast with Sesame Seeds
£3.50
Mussels in Black Bean Sauce
£4.80
Mussels in Szechuan Chilli Sauce
£4.80
Malaysian Spicy Pandan Chicken
£4.00
Mini Vegetable Pancake Rolls (10)
With sweet & sour sauce
£3.20
Barbecued Spare Ribs in Barbecue Sauce
£4.80
Barbecued Spare Ribs with Chilli & Salt
£4.80
Barbecued Spare Ribs with Sauce Dry
£4.80
Barbecued Spare Ribs with Sauce Gravy
£4.80
Barbecued Spare Ribs with Sauce Syrup
£4.80
Deep Fried King Prawn Balls
£5.60
Fried Chicken Wings in Peking Sauce
£4.60
Breast of Chicken Curry
Whole
£6.00
Chicken & Barbecued Pork Curry
£6.00
Contact Us
Find Us
746 Pollokshaws Road, Glasgow, G412AE
We deliver to
G41, G42, G43, G44, G46, G5